EPD's New Recycle Bin with Simple and Stylish Appearance
(This product would be used in Hong Kong only)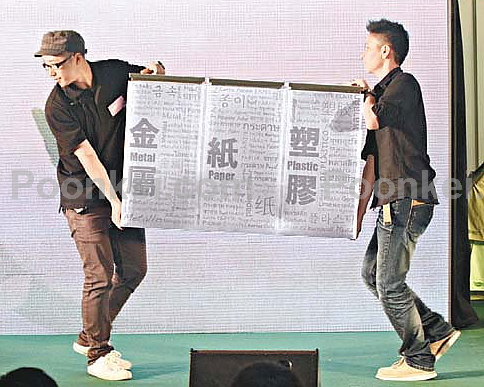 EPD's New Recycle Bin with Cool Style Design

At first glance they look like oversized gift boxes. But in fact, they are modern recycling bins designed by prominent artists, celebrities and local designers to raise public awareness on waste separation. The unique collection of recycling bins was recently on display at an ex-hibition organized by the Environmental Protection Department (EPD).
The exhibition, which ran from August 13 till 15 at Times Square in Causeway Bay, drew considerable public attention. Some of the creators of these bins are among the most recognizable faces in Hong Kong. They include award-winning actor Simon Yam and members of the Wai Yin Association, the oficial body for former Miss Hong Kong Pageant contestants. Other designers are Tommy Li, Dorian Ho, Dorothy Tang, Siuhak, Chocolate Rain, Lester Lee and Lau Kin-gi. The theme of Simon Yam's design is "Follow your heart", which underlines the importance of listening to one's heart because the best motivation must come from within. His design illustrates that motivation is an essential prerequisite for the pursuit of environmental protection objectives.
The Wai Yin Association's design was conceived by actress Angie Chiu, fellow actress Hoyan Mok and television personality Mandy Cho. The aim of their design theme "Try our best to create a better future" is to instill a sense of mission to encourage people to try their utmost to separate waste for recycling to benefit the environment. Four-year-old Lau Kin-gi is the youngest designer, who had earlier won a medal in the 38th International Children's Exhibition of Fine Arts Lidice. For the recycling bin design, Kin-gi drew a globe to form the inner core of a lower to convey the message that if everybody made good use of our limited resources and recycled waste, the world would be a beautiful habitat for us all.
The exhibition was part of EPD's "Minimising Waste, Maximising the Future" ongoing waste reduction campaign that aims at promoting green living and better use of resources through a series of activities with the business sector and various organisations. The waste reduction campaign, launched on May 23, has already inspired six local cafe groups to form the Green Cafe Alliance to encourage customers to use less disposable cutlery. The alliance has conducted a number of city-wide roadshows to share green tips with the public and promote waste reduction.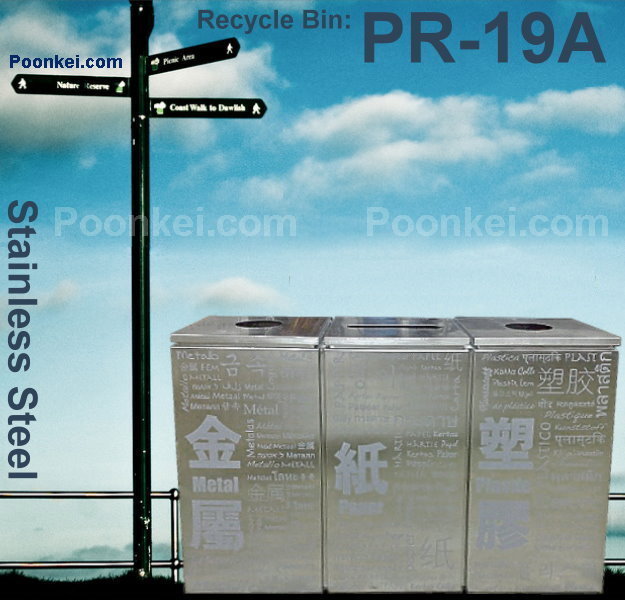 Product Features:
New recycle bin designed by the Environment Protection Department of the HK Governemt

Traditional and simplified characters, English, Korean and German are used to indicate metals, paper and plastic materials recycle bins

Simple and stylish appearance suitable for retail and office installation

Tailor-made outlook is welcome to be ordered
Environment Bureau (ENB) and Environmental Protection Department (EPD) announce the issue of "Green Hong Kong"
EPD's Minimising Waste, Maximising the Future Recycling Bin Exhibition